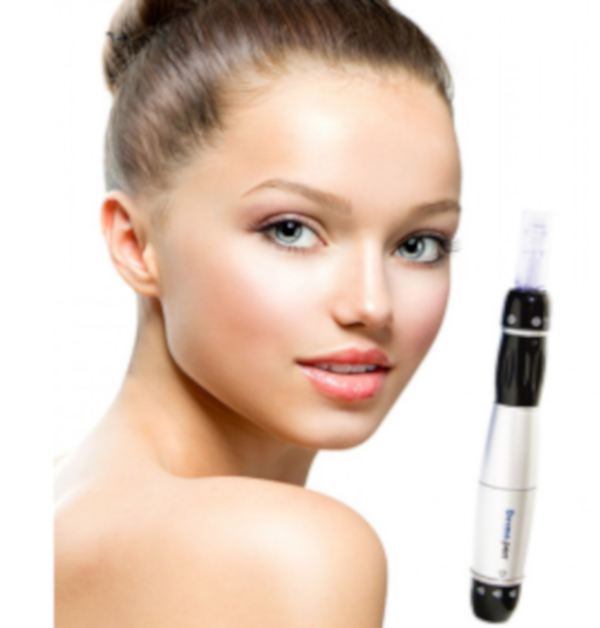 Microneedling
Rejuvapen is much safer and more effective in piercing the skin than traditional skin microneedling rollers
Rejuvapen is much safer and more effective in rejuvenation by piercing the skin than traditional skin microneedling rollers, because of its unique vertical microneedling technology. It has a superior effect on collagen and elastin rejuvenation. Active ingredients are directly supplied to the deeper layers of the skin. Rejuvapen's multi-speed and adjustable needle depths allows the needles to pierce the skin's layers at 90 degrees and increases the effectiveness of treatments by increasing the absorption of products. On the other hand, it reduces pain and patient downtime.
Treats hard-to-reach places
Rejuvapen can effectively treat hard-to-reach places, such as around the eyes, nose, and lips. Because of the vertical delivery, the needles can easily penetrate scar tissue.
Promotes natural healing
Rejuvapen promotes scar-less healing and natural collagen reproduction, similar to fractional laser treatments, IPL, laser resurfacing, and chemical peels, but without the side effects and downtime.
How does Rejuvapen work?
The mechanism of injury is a natural process, which makes Rejuvapen a holistic approach to skin therapy.
Four major phases of physiological wound response help in stimulating new healthy tissue growth. First, an inflammatory response (1-3 days) to the initial injury promotes the chemotaxis response and proliferation of fibroblasts. The body's platelets also respond to initiate a wound matrix. This response is the early phase of cell migration to remove debris and bacteria and stimulate the next proliferative phase.
RI Dermatology and Cosmetic center is committed to providing advanced aesthetic enhancements and Anti-Aging Medical treatments through MD developed, and supervised services.
Our Staff is highly skilled and trained to perform with the most modern technology. Reduce wrinkles, reduce sun damage, reduce spider veins, tighten skin, remove unwanted hair, and more!
Request A Spa Appointment
Contact us today to set up your first appointment.