Microdermabrasion
Microdermabrasion (SilkPeel) is a Non-Invasive Skin Rejuvenation Procedure.
How SilkPeel Works
SilkPeel is exclusively offered through facilities with medical directors on staff, and isn't available at a typical day spa or salon.
If you are looking for a skin treatment that delivers immediate results, won't take hours out of your busy schedule, and will leave you with noticeably better skin in under 30 minutes, then SilkPeel Dermalinfusion is the best procedure offered today. Similar to microdermabrasion, the SilkPeel Dermalinfusion System combines non-invasive exfoliation with deep delivery of patient-specific solutions directly to the skin without the use of crystal or other chemical exfoliants.
The procedure is non-invasive and even soothing; delivering the results you want without harsh chemicals or uncomfortable treatments! When you get a SilkPeel, you won't have any downtime, and don't have to worry about dealing with irritated or inflamed skin. Within about 30 minutes, SilkPeel's wet exfoliation leaves your skin silky-smooth, hydrated, bright, and full of the youthful, healthy glow that we all desire.
After cleansing and preparing your skin, your esthetician will perform the procedure by making several passes down your neck and across your face with the specialized handpiece. Each pass abrades away dead skin, thoroughly and evenly exfoliating while infusing the treatment solution into the skin. In just a few minutes, the treatment is over with results that last for weeks. Your skin immediately looks clearer and brighter and definitely feels smoother!
Treatment & Timeline
Your skin care professional will choose one or more of our specialized Pro Infusions, formulated to address a variety of skin conditions. The SilkPeel infuses these products deep into the skin where they are most effective. The solution doesn't just sit on top of your skin like a lotion or cream would, instead the patented SilkPeel handpiece deeply delivers the vitamins, antioxidants and other therapeutic ingredients that your skin needs most.
Each SilkPeel takes only around 30 minutes*, and requires no downtime. It's perfect as a lunch-time facial. It's an easy way to relax without taking up hours of your busy day! SilkPeel is also a great way to hydrate tired feet, or rejuvenate your hands. It's perfect for swimsuit season, weddings and other formal events, or anytime your skin needs a good pick-me-up! Ask your skin care professional about other SilkPeel procedures they can combine with your facial appointment by including hands, eyes, lips, feet, neck, dÈcolletage, chest, back, or arms! *BODY treatment times will vary.
Aging
Microdermabrasion (SilkPeel) is a Non-Invasive Skin Rejuvenation Procedure.
SilkPeel for Aging
Why Hyaluronic Acid?
Hyaluronic acid is a major component of skin, where it is believed to be involved in tissue repair. Skin that is damaged by exposure to sun and the elements can stop producing as much hyaluronic acid, contributing to premature aging in skin. Restoring these levels can be an excellent anti-aging therapy, restoring healthy looking and healthy acting skin.
Why Vitamin C?
Vitamin c is one of the most relied upon skin nutrients in the antioxidant family. It is essential in the synthesis of collagen, and as a potent antioxidant, it neutralizes free radicals to prevent future tissue damage that results from exposure to the sun and other environmental factors. However, the trick is getting absorption of bioavailable vitamin c in the skin. Because it is an unstable molecule many topical formulations are not effective in delivering sufficient bioavailable vitamin c to the skin. The vitamin c Skin Hydrating Pro-infusion Solution includes a more stable derivative of vitamin c, thus enhancing its delivery and getting the full benefit of bioavailable vitamin c to your skin.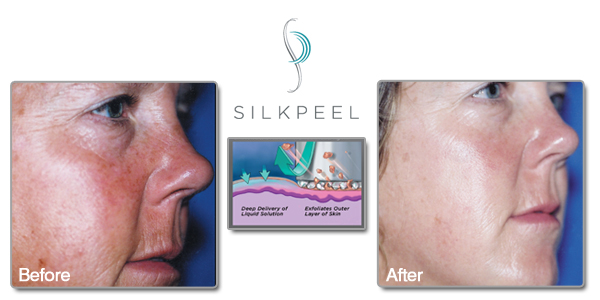 Acne
Microdermabrasion (SilkPeel) is a Non-Invasive Skin Rejuvenation Procedure.
SilkPeel for Acne
Not just for kids?
Acne is not just the "plague" of adolescence it is often portrayed to be. Unfortunately, acne and blemishes affect people of all ages. Women commonly report occasional or frequent acne breakouts throughout adulthood. These can be a result of cosmetics, hair products, make-up, and chemical based sunscreens that can clog the pores, among other things. It has also been reported that more than 60% of adult women with acne concerns experience premenstrual flare-ups.
Acne usually begins with the formation of blackheads, which are actually the result of oil and dead cells that get trapped in the pore and block the duct going down to the base of the fine hair follicles, creating an environment where P. acnes bacteria can thrive. The bacteria build up in turn causes swelling and inflammation in the skin.
SilkPeel Dermalinfusion System
The SilkPeel Dermalinfusion System, when used with our proprietary Skin Clarifying Pro Infusion Solution, delivers a salicylic acid based formula deep within the surface of the skin to target blemishes while exfoliating your pores inside and out. The SilkPeel clarifying treatment is highly effective due to the combination of 1) exfoliating damaged and irritated skin away, 2) cleansing the skin and follicles of excess sebum and P. acnes buildup, and 3) delivering anti-microbial active ingredients down to the base of the follicle where acne lesions develop. Your SilkPeel professional can also target areas of skin that are not easily treated with topical solutions, such as the shoulders, back and the backs of the arms. Now patients can take home the new Silkpeel Clarifying Acne Treatment Pads as a follow-up to treatments, helping to prevent breakouts and promoting healing between visits. Before and After (12 weeks – 6 treatments)

Body
SilkPeel is a Non-Invasive Skin Rejuvenation Procedure.
SilkPeel Body System
For body, neck and décolletage
SilkPeel Body System is effective at treating fine lines, uneven skin tone, sun damage, acne scarring, folliculitis and stretch marks. Uneven texture and dimpling plague us even when it's not swimsuit season. The addition of the new SilkPeel BODY System allows your skincare professional to target large areas of the body in an enjoyable, quick procedure. The vacuum suction aids in retexturing and stretching the underlying tissue while SilkPeel's wet exfoliation leaves your skin silky smooth, hydrated, bright, and full of the youthful, healthy glow that we all desire.
Benefits of the SilkPeel Body System
Improves skin texture, increases cell renewal, increases circulation and lymphatic flow, and hydrates and soothes the skin. SilkPeel also manipulates, stretches, and enhances underlying connective tissue and musculature to reduce the appearance of fine lines, uneven skin tone, sun damage, acne scarring, folliculitis and stretch marks.

Hyperpigmentation
Microdermabrasion is Non-Toxic and Safe for Prolonged Use
LUMIXYL for Hyperpigmentation
What is hyperpigmentation?
Hyperpigmentation is the result of overactive melanocytes (the cells in your skin that create melanin, the pigment that gives your skin its "tone"). The reasons that this happens in skin are many, but they include conditions such as: Hormonal changes associated with menopause, pregnancy, or puberty. It can also be caused by sun damage, when UVA and UVB rays from sunlight cause increased production of melanin in skin. When this happens evenly, it is called a "suntan", but as skin is damaged the production is often not even at all, resulting in age spots or sun spots. Postinflammatory hyper pigmentation (PIH), is the result of a reaction in your skin to some kind of "trauma" it has sustained. This often occurs after a surgical procedure or after aggressive laser resurfacing. It can also occur after a mild chemical peel or as a result of using irritating topical products. This can hamper the results of an otherwise successful procedure or skin care regimen.
In the past, the most common therapies for hyperpigmentation have included products containing hydroquinone, which are considered effective, but can be very irritating to many skin types due to their cytotoxic nature. Other ingredients such as arbutus, licorice extract or kojic acid are less irritating but also generally much less effective.
What is LUMIXYL?
Fortunately, now there is Lumixyl. Lumixyl is a revolutionary breakthrough peptide available in a Pro-Infusion solution exclusively for SilkPeel treatments. It is also available in a Topical Brightening Creme for daily home application. In addition to its efficacy, Lumixyl is the only skin brightener to offer all of the following benefits in a single product: Non-Irritating, Non-Toxic, Safe for all skin types, Safe for prolonged use.

Photos
Microdermabrasion: Before and After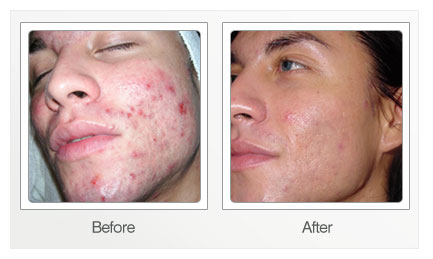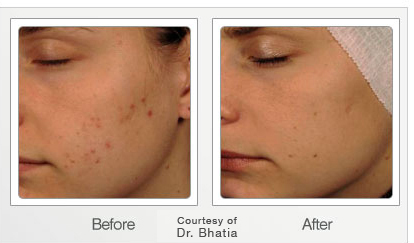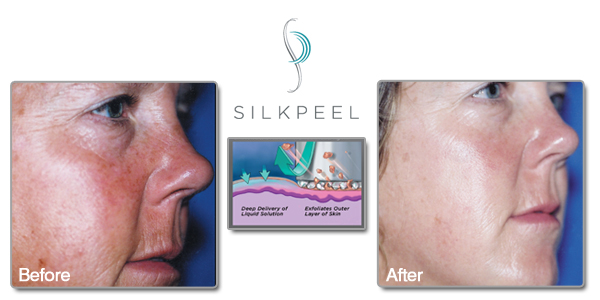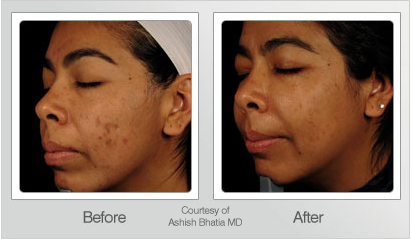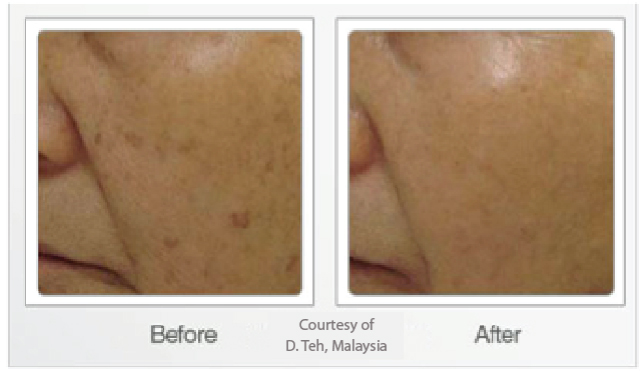 RI Dermatology and Cosmetic center is committed to providing advanced aesthetic enhancements and Anti-Aging Medical treatments through MD developed, and supervised services.
Our Staff is highly skilled and trained to perform with the most modern technology. Reduce wrinkles, reduce sun damage, reduce spider veins, tighten skin, remove unwanted hair, and more!
Request A Spa Appointment
Contact us today to set up your first appointment.